about Khalik Makanak
Khalleek Makanak is a social entertaining program for young people and its slogan is "This program is named Khalleek Makanak after one of bushra's famous songs Who has a large fan base look up to her . its goal is driving you forward, it always raises questions which are related to the problems of youth and society, and touch human relations between human beings, but in a funny way to attract the attention of listeners , and at the same time a simple way of discussion, reaching all levels of society according to the degree of education and culture, such as: " How much your emotional relationship costs in a month?", " What would you do if your beloved's brother saw you together without his knowledge? ", " What are your memories with the old photo albums?", " Why do we believe lies faster than facts?" This program is submitted by super star Bushra, who adds to the program as she's an artist who has big fans love her .In addition to singing and fun with listeners & the name of the program is on the name of one of her songs..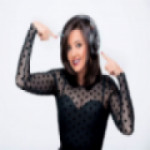 Bushra
presenter of the show
Egyption singer and actress , Faculty of tourism and hotels(guiding) Date of birth : 6/10 Horoscope sign : Libra Preferable color: Green and Blue Preferable singers: Julie Andrews Lucky number: 2.